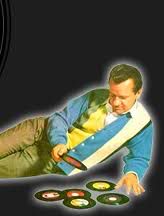 Hey, Travis Klein, local music biz institution, put up this post and
Old Mon
thought he'd pass it along:
"Many of you know Porky Chedwick, if not personally, by reputation. Porky is a living legend as America's preeminent oldies disc jockey. He and Jeannie now live in Tarpon Springs, Florida and Porky is looking for work as an M.C. or disc jockey. If you know someone that would like to offer Porky a paying gig, call Jeannie's cell phone at (412) 513-5928."
As Travis says "There are so many ex-Pittsburghers down there as well as oldies fans from New York and elsewhere..." So if you're in the business of booking guys for record hop or club gigs,
Old Mon
and a few million fans vouch for Porky's resume. Give Jeannie a call.