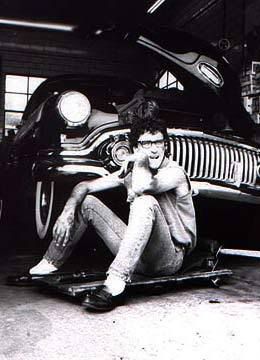 Donnie Iris
Dominic Ierace, known by City rock lovers as Donnie Iris, was born in Ellwood City on February 28th, 1943 - yah, he'll be 66 soon - and was taught to sing at his momma's knee, beside the piano. He'd also accompany soul singers he had on the turntable or radio.
Iris got his musical career in high gear early, winning a Paul Whitehead TV amateur hour at the tender age of eight. The prize was a refrigerator; local lore places that old icebox in his garage today, usually filled with cold brew.
But success didn't rush to his head. In fact, he quit singing when he was 12; his voice changed. Iris played a little guitar in high school but preferred the drums because the skins didn't make his fingers bleed. Eventually, he taught himself how to play the ax without chopping up his fingers.
As a sophomore in college, he joined up with Dave Amodi and Jimmy Evans, and formed the Trivelles, hitting the frat circuit and playing at a local bar named "Guy's." That was fine with them; like most college rockers, they weren't after the fame and fortune, but the girls.
They later added bass player Dave Rieser from Slippery Rock, and called themselves Donnie and the Donnelles; this is when the Donnie Iris persona was developed. From there, he jumped in with a Pittsbugh band,
the Jaggerz
, in the late 60s. Iris earned a gold record for writing and singing the monster song "The Rapper" in 1970.
Around 1978, he joined with
Wild Cherry
in the group's waning days, switching from R&B to funk. He got a taste of touring with WC and met keyboardist and writer Mark Avsec, his future music-making collaborator and partner.
After Wild Cherry broke up, they began writing some songs in the Iris basement. Their first release was the disco-ish single "Bring on the Eighties" backed by the cover song "Because of You" in 1979. The record died a quiet death. Iris and Avsec decided to start rockin' on their next release.
The duo came up with a hybrid of rock and new wave, and pioneered a taping technique they called "stacking," a sort of early overdubbing, sometimes layering dozens of Iris' vocal tracks atop one another. In effect, Iris backed Iris.
They laid down some tracks at New Brighton's Jeree's Recording Studio on Third Avenue, run by Jerry Reed and Don Garvin. Iris and Avsec brought in guitarist Marty Lee Hoenes (Pulse), bassist Albritton McClain (David Werner) and drummer Kevin Valentine (Breathless), and recorded his first full length album.
Avsec carried some songs and a couple of keyboards to the studio, and got to work on producing his first disk. Shortly, the band was cutting the tracks for "Ah! Leah!" and the other songs that would become their debut "Back On The Streets" album.
Iris and Avsec decided the record would be a solo album, featuring Donnie and his stacked, blue-eyed soul vocals, but they wanted the band to have an identity too, like Tom Petty and the Heartbreakers.
Avsec lived in Cleveland and the players were constantly on the turnpikes going to and from the studio in Beaver Falls. Iris thought the group should be called The Turnpike Cruisers, after the 1958 Mercury Turnpike Cruiser and probably all the tolls and mileage piled up by the band. The Turnpike Cruisers morphed into the Cruisers, and Donnie Iris and the Cruisers became their nom d' artiste.
The song "Ah! Leah!" was rejected by every major label. But in 1980, local radio still broke cuts that weren't on the national playlist.
WDVE in Pittsburgh, WMMS in Cleveland, and WBCN in Boston spun the record. The single and album were issued by Cleveland's Sweet City/Midwest Records, and both began to chart on
Cashbox
and
Billboard
thanks to the heavy regional rotation.
MCA/Universal noticed and picked up the album, beating out Chrysalis. "Ah! Leah!" peaked at #29 in
Billboard's
Singles Chart, and was played to death on the album orientated stations.
Iris was dubbed the "new king of cool" by a Toronto reviewer after a show at The El Mocambo club. Must have been the Buddy Holly glasses (he switched from wire rims on Avsec's advice). The follow-up album played on that praise, and was called "King Cool."
It featured the track "Love Is Like A Rock," a top-forty hit and ninth on the rock charts. KC's big seller was "My Girl," which hit #25 on
Billboard's
Singles Chart.
Beginning in 1980, the Cruisers made the road their second home. During a three year stretch, the band headlined and toured with dozens of acts, including Journey, Loverboy, Bryan Adams, Foreigner, Bon Jovi, The Romantics, Eddie Money, UFO, Nazareth, Ted Nugent, Joan Jett, Hall & Oates, and the Michael Stanley Band.
Two other MCA albums followed ("The High And The Mighty" and "Fortune 410") yielding songs like "Tough World" and "Do You Compute?," which became a popular MTV vid. They were both top-40 on the rock charts, though not very hot movers on the singles list.
They returned to the studio in 1986 and recorded a new album titled "Cruise Control," now with Scott Williamson on bass and Tommy Rich pounding the drums.
But a squabble with MCA resulted in a drawn out lawsuit and the deep-sixing of that album. (That suit led Avsec back to college; he became an attorney and teaches law at Case Western Reserve University.)
The Cruisers were stalled behind a legal road block, so Iris partnered with Avsec on his second Cellarful of Noise album, "Magnificent Obsession," which was released in 1988 and featured the song "Samantha."
After a decade long exile from the studio, the original band gathered again at Jeree's to record the "Poletown" album in 1997, which many consider to be the finest Donnie Iris and the Cruisers release. It was a departure of sorts from the hard rockin' Cruisers, featuring a blues influenced sound, a sort of return to Iris' original musical roots.
He cited his most influential acts growing up as Ray Charles, The Beatles, Marvin Gaye (his favorite), The Temptations (and Motown generally), and Buddy Holly.
In 1998, with Tommy Rich behind the kit again and Paul Goll now on bass (the core of the act - Iris, Avsec, and Hoenes - stayed together, but they went through drummers and bassists pretty regularly. Scott Alan was on bass and Steve McConnell played the skins in the early 90s before Goll and Rich), the band recorded one their club shows, issued under the title of "Live! At Nick's Fat City."
"Together Alone" was released next, in 1999. It was a softer sounding record, another new direction taken by the maturing Iris.
But who wants quiet maturity from a rock and roll band? In August 2004, Donnie Iris and the Cruisers pumped up the amps and celebrated their 25th anniversary before 4,000 gleefully beserk fans at the Chevy Amphitheater.
Three Cruiser drummers – Kevin Valentine, Tommy Rich, and Brice Foster - were on the stage, along with Avsec's daughter, Danna, who began sitting in with the band when she turned 16 years old. Nothin' quiet about that gig. And the Cruisers still often show up on stage with two or three kits to drive the sound.
They also released a compilation album, "25 Years," in conjunction with their anniversary.
The "Ellwood City" album, three years in the making, was next, released in May 2006. It was homage record by Iris to his birthplace. And ya know what? Western PA digs Iris as much as he digs his home stomping grounds.
June 17, 2006 was celebrated throughout Lawrence County as Donnie Iris Day. He also received some love from Congresswoman Melissa Hart and local State Rep Frank LaGrotta in the form of official proclamations applauding his career.
When the politicos line up to kiss your ring, you know you're a certified hometown hero. Heck, his trademark yellow suit was even an exhibit once for the Beaver Area Historical Museum's "Musicians of Beaver and the Beaver Valley" show.
Today, he owns and operates his own mortgage company, Simcorp, in Aliquippa. And no, Iris didn't get a bailout! The grandfather and his better half, Melody, still live near the old homestead in Beaver Falls, where he enjoys bowling, golf, Courvoisier and cigars.
But he's most surely not spending his AARP years in a rocking chair. In a couple of weeks, he'll be appearing with Lovebettie and Sweet Angelina Blue at Johnny B's Night Club at 660 East Pittsburgh Street in Greensburg, on February 21st.
And on Saturday, March 14, he'll host the Gateway Clipper's "Luck O' The Iris" Saint Patrick's Day Cruise. So if somehow you've managed to miss Donnie Iris over the past few decades, don't despair - he'll be on stage somewhere soon for you to enjoy.

Donnie Iris and the Cruisers - "Love Is Like A Rock" live at Cuyahoga Falls, 1981