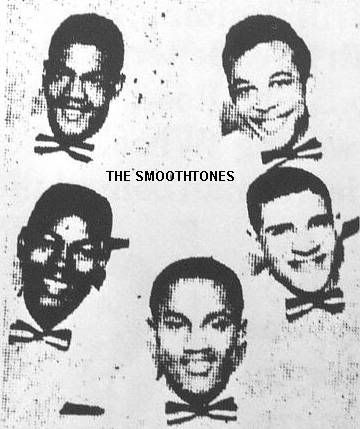 The Smoothtones from Marv Goldberg's R&B Notebook
The Smoothtone story begins, of all places, in the exotic climes of Tripoli, Libya. In this sweltering locale, Airman Alfred Gaitwood joined the Garden City (arid Tripoli's tongue-in-cheek nickname) Glee Club.
Why a glee club in Tripoli? Because that's where Alabaman Gaitwood and gang were stationed by the Air Force. Gaitwood had been in the club since 1949, and although he preferred to write and produce music, he took up singing, too. And hey, it sure beat washing and waxing airplanes or whatever Air Force guys do to pass their duty time.
But he caught on quickly, and the Garden City Glee Club toured bases across Europe, winning vocal contests galore as they rode the post-war barracks circuit.
In 1953, Gaitwood was transferred to a reserve AF unit in Pittsburgh, pre-saging the later escapades of the
Del-Vikings
. He connected with some Hill District vocalists and they began making some music together, quickly becoming the "Smoothtones," a name selected by Gaitwood.
The members were: Enoch Hale (first tenor), Joe Martin (second tenor), Walter Lowry (baritone), and Kenny McMillan (bass), with Gaitwood on lead. When Hale was called by Uncle Sam in 1954, he was replaced at first tenor by Jud Hunter.
In early 1955, they recorded two sides (both written by Gaitwood) for Lennie Martin's local JEM label: "Bring Back Your Love" b/w "No Doubt About It" (JEM #412), backed by the Walt Harper Orchestra. The wax was released in June 1955.
As a historical marker, it's thought that disk was the first time that a song by a black vocal group, or as it was called back in the day, "race music," was issued by a Pittsburgh label.
Up until then, the Smoothtones' appearances were mostly limited to record hops hosted by DJs Bill Powell (who would later break "Guided Missile" in Pittsburgh over WILY), Leon Sykes (WMBS), Jay Michael (WCAE), Barry Kaye (WJAS), and, of course, "The Daddio of the Radio" Porky Chedwick (WHOD), who gave the song its first airplay.
After the record broke and did well locally, the band booked a busy schedule of one-nighters, all in the Pittsburgh area. The live regional circuit was their bread and butter; they didn't follow up "Bring Back Your Love" with any new recordings. Then, in early 1956, Gaitwood was again reassigned by the Air Force.
His place in the Smoothtones was taken by Sylvester Brooks. The group then cut "It's Too Late Now," a Gaitwood tune, for JEM. The song was apparently never released by Martin, although Gaitwood's next group would later record it on Dootone.
Gaitwood ended up at McClellan AFB in Sacramento, and surprise, he started singing with some other airmen, who eventually became the Cuff Links. (Gaitwood had long before decided on that name for his next group; he had a yellow shirt with French cuffs and brown cuff links, and that was his inspiration. Hey, we can't make this stuff up.)
They cut "Guided Missile," which hit the #2 spot in Pittsburgh in 1956 though it never charted nationally. A year later, Gaitwood was off to McGuire AFB in Jersey, where he hooked up with yet another group.
As for the Smoothtones, it seems that the transfer of Gaitwood, who did all their writing, took away their raison d' etre, and they disbanded shortly afterwards, in September of 1956.
(Old Mon once again leaned heavily on the expertise of Uncle Marvy at Marvin Goldberg's R&B Notebook for background. The Smoothtones are also included in the book "Encyclopedia of Rhythm & Blues and Doo-Wop Vocal Groups" by Mitch Rosalsky)

Smoothtones - "Bring Back Your Love"