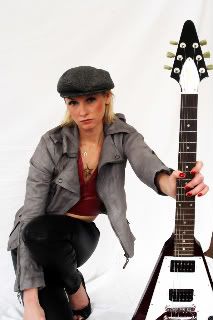 Rebekah Snyder-Starr
Hey, a trio of Kittanning's finest rockers, The Rebekah Starr Band, are having their initial CD release party at 10 PM tonight at Station Square's Hard Rock Cafe to push "Rockstar Girl."
The band is trying to tap into the 21st Century business model for music sales. They bypassed the label chase and bricks-and-mortar distribution system, and are counting on the web to get their sound to the public. For starters, they handled the financing, recording, and production themselves.
TRSB recorded at North Hill's Audible Images Studio for a couple of weeks in February and March. The studio has laid down the sound for just about every genre you can come up with, including world music, rock, pop, C&W, and hip-hop.
Rock producer Marc Jordan flew to Pittsburgh from L.A. to oversee the project, and even played bass for them. He returned home with the raw tracks to mix at his studio, Dragonfly Revolution. Then the record was mastered by Tom Baker of Precision Mastering in Hollywood, California. And viola, "Rockstar Girl" was ready to roll.
Now comes the hard part, moving some wax. They're selling the tracks on iTunes, Dig Station, their
web site
, and some non-traditional hometown outlets.
"We think we have a great business plan for pursuing multiple sales avenues," says Rebekah. "And just like national artists turn to nontraditional retail outlets, like Starbucks and Victoria's Secret, for selling their music, we're also not completely leaving out brick-and-mortar for our local fans either."
Old Mon
wishes them success. But even the new ways of pushing platters is a dog-eat-dog venue; there are a lotta bands out there vying for some web love.
But hey, enough about the industry. TRSB itself plays a little raw live, which isn't a bad thing at all, and they categorize their music as funkrock. It's a good sound, and like every solid Pittsburgh band, the group tosses a little R&B into their rock.
Lead singer, guitar player, and writer Rebekah Snyder-Starr has performed from Kittanning to Manhattan (as a solo act). With drummer Michael Starr (her hubby, who she's known since grade school days) and Nathan Mancine (bass & vocals), she formed rock trio The Rebekah Starr Band.
If you're into degrees of separation, Snyder-Starr went to school with Starr, who worked at a drum shop in Cranberry with best bud Mancine. It makes for a pretty tight group.
It shows during the act. Snyder-Starr might jump behind the kit, Starr could play a few licks on the lead ax, and Mancine will take over the vocals. It's a high-octane performance and a good mix of pop licks from the three players.
The band was one of the finalists last week in the Hard Rock/WDVE Battle of the Bands, and they're gigging tomorrow at the Belmont Arena in Kittanning ahead of Butler's Bret Michaels, lead singer of 1980's rockers Poison and the star of VH1's "Rock of Love" show.
They've got dates on Saturday, June 13, playing the "Waves of Thunder" Motorcycle Show at the Kittanning Riverfront Ampitheatre, and on Saturday, July 10, opening for the band Girls Girls Girls at The Warehouse, in Kittanning.
TRSB is working to put together their summer schedule - yah, even venturing outside Kittanning and Station Square - to support "Rockstar Girl." Check their
web site
for bookings and catch them when they show up near you; you'll get righteous in a hurry to their boogie.

"Very" by The Rebekah Starr Band live at the Warehouse