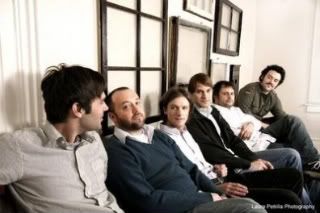 Lohio
Furloughed from their day jobs within weeks of each other, Lohio's Greg Dutton and Josh Verbanets decided to spend their unexpected free time by building a recording studio. They spent weeks in Dutton's garage, and finally hammered together an operating record shop as the fruit of their labors.
And what good is a record studio without a record? Well hey, Lohio baptized the studio when it cut most of the band's latest disk "History, the Destroyer" in the Dutton's garage.
"History" is sixties pop, with the sounds of country and 90's Brit Pop mixed in. Since its November 2008 release, the CD has been named as one of the year's Fav Twenty albums by
Desolation Row
.
Dutton, an architect by day, started Lohio as a solo project, and began recording his EP "Sleeping Stereo" at 3 Elliot Studio. He was a country-folkie then, showing his rural Ohio roots (he was raised on a family farm in St. Clairsville) and making music in the singer/songwriter mode with a little help from his friends.
He brought in some buds from other Pittsburgh acts to back the record, and all of them eventually joined the band. 2007's "Sleeping Stereo" (Golden Chilren label) earned comparisons to Chicago's early Wilco. The song "Sea and the Sun" was the track that generated the most buzz for "Stereo," while the EP won critical acclaim and some local love from the
Post Gazette
and WYEP.
Now featuring Dutton (vocals/writer/guitar), Verbanets (guitar/writer), Matt Miller (drums/ vocals), Liz Adams (vocals & bass), Erik Cirelli (guitar) and Craig Smith (keyboards), the band became a collective, morphing from country to pop for "History."
The record was a team effort, with Dutton and Verbanets sharing the producing and recording duties, while the pair, along with Miller, did the composing. The collaboration process was a natural step once Lohio became a full-fledged band with its members eager to toss their two cents worth into the final product.
Dutton told Scott Mervis of the
Post Gazette
that "Our middle ground is like the Zombies and old British Invasion, but also '90s Britpop." They've lost the Wilco comparisons, with their sound being likened now to the New Pornographers, the Clientele, and the Blur.
Be sure that alt country and folk are still in Dutton's genes, though. He's part of a swirling cast of characters, along with Miller, of Boca Chica, a local band that evokes Gillian Welch. They have a full-length album "Transform Into Beasts," released in 2007.
Since Lohio formed in 2006, they've been shared the stage with acts including David Bazan, The Avett Brothers, American Music Club, Tokyo Police Club, Ricki Lee Jones, Jennifer O'Connor and Ra Ra Riot. And they're itching to take their show on the road.
They're just coming back from an Ohio swing, and will play January 27th at the CMU Underground and on the 30th at Howler's Coyote Cafe in Bloomfield with Boca Chica and Mariage Blanc.
The coming weeks will see Lohio in Philly, Brooklyn, Columbus, Athens, Louisville and Danbury with a couple of more Pittsburgh gigs squeezed into the schedule.
Expect them to keep piling up the mileage; nothing like supporting a new CD to keep a band merrily rolling along the interstates. "History" should prove well worth the journey.
Josh Verbanets and Matt Miller have since left the band to form a new group,
Meeting Of Important People
. Craig Smith also left because of time conflicts; he's playing with Blindsider and Victor. Sven Stens (drums) and Chris Ryan (keyboards) joined on; Dutton, Adams, and Cirelli remained.
That roster released an EP in November, 2009, called "Lohio." They produced it in the Gibsonia studio of
Donora's
Jake Hanner.
The band released a second EP in the fall of 2010, titled "Family Tree," a five song collection that's available on iTunes. It too was recorded at Hanner's studio, and is a return to folk-rock, rather than another pop set.
The band's roster for the CD are long-time mates Greg Dutton, Liz Adams, Erik Cirelli and drummer Paul Smith (Sven moved to Philly. Dutton knew of Smith and his work through
Emily Rodgers
.)
The CD's physical release will be October 3rd at Brillobox, where Lohio will perform with
Donora
. Afterward, the two will tour the midwest together, appearing in places like Columbus, Lexington, and Louisville.

Lohio - "Victim Is A Saint", from "Sleeping Stereo" and performed at Brillobox
(sorry about the chatter and the pyschedelics; YouTube isn't exactly MGM quality all the time - Old Mon)