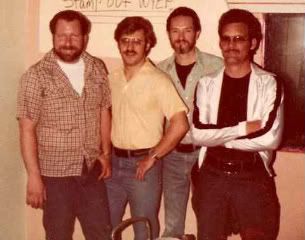 Pat Wallace & the Rock'n Ravens from the Magic Music Machine
Hey, this is another quick blast from the past. It came about after John Papi, leader and B-3 player for several local bands and Route 51 club owner (Panther Room, Garage, Haunted House, Vegas Showbar) and
Old Mon
had a little Facebook chat about back-in-the-day Pittsburgh rockabilly bands.
Anyway, Papi recalled Pat Wallace gigging at the Panther Room around 1968, and JP said that Pat introduced the club's soul/jazz players to Rockabilly...and good.
Pat Wallace released several records throughout the mid-70's and early 80's, and with the Rock'n Ravens issued two albums and several singles of 50's rock on their own Rumble label. They cut several slabs of wax for Jay Davis' Asterik label and Ray Bishop.
He went to Baldwin High School and his day job was working at Southland Record Shop, in the Southland Shopping Center on Route 51 in Pleasant Hills. It was operated then by St. Clair label owner Jules Kruspir (aka J. J. Jules), who had been the manager of The Marcels.
Wallace had formed a band called the Shadows when he was in high school and it stayed together several years after graduation. He got another 45 cut compliments of his boss, Kruspir, who released "Hole In Your Soul" in 1965 on St. Clair.
It gave them some local cred, and they played area clubs and the I-80 circuit, hitting towns like DuBois and Clearfield. They quickly evolved from a garage band to a mainly rockabilly outfit.
It took Wallace nearly a decade to cut another record, when KQV's Jay Davis (Jay the Jock, who passed away in 1992) signed him for his Asterik label in 1974. Wallace and his band Sunshine churned out another trio of rockabilly/garage tunes.
Again, the vinyl added to their local luster - they even got some overseas play; the Brits took over the American airwaves and American R&B and rockabilly guys took off in Europe - but after 1976, the studio time disappeared, as far as we could tell.
But Ray Bishop had a taste for rockabilly (Buddy Sharpe was on his label), and Wallace, with his Rock'n Ravens, were back on wax briefly in 1980-81 on the local Bishop label.
After that, the trail runs cold. Wallace now lives in Spencer, Massachusetts, about 60 miles west of Boston, and has been there since the late nineties. But he did leave behind in Pittsburgh a decent discography:
Pat Wallace:
"(I'm Gonna) Fill The Hole In Your Soul" b/w "C'mon And Work" (St. Clair 7 - 1965)
"Life" b/w "Starship From Above" (Patlyn 263 - 1974)
"One Night Man" b/w "Makin' Love" (Asterik 116 - 1976)
Pat Wallace and the Rock'n Ravens:
"Boppin' The Blues" b/w "Rock This Joint" (Rumble 7901 - 1978)
"Hot Snatch" b/w "Return Of The Red Headed Flea" (Rumble 7902 - 1979)
"Dance To The Rock And Roll" b/w "Rock And Roll Skate" (Rumble 7903 - 1979)
"Angel Baby" b/w "Make You Mine" (Bishop 1004 - 1980)
"Switch Blade" b/w "Get Hip" (Bishop 1009 - 1981)
"New Rockin' Party Doll" b/w "Goin' Cattin'" (Bishop 1011 - 1981)
"Geez A Ma Neez" b/w "Tennessee Boogie" B-Side performed by Tennessee Slim (Bishop 1015 - 1981)
Pat Wallace and Sunshine:
"Tell Me" b/w "Tomorrow" (Asterik 107 - 1974)
"Drinking Wine Spo-Dee O-Dee" b/w "Special Kind of Lover" (Asterik 109 - 1975)
He was also credited with "Cold Hearted Blues" and "Find Me A New Love," but
Old Mon
can't find the labels or years for those tunes and ditto for the Rumble albums. His wax isn't even on eBay; they're out of issue and probably worth something to the collector crowd.
And as an aside:
Pat and the Satellites (these guys are often confused with a Pat Wallace band, but were actually New York based):
"Jupiter-C" b/w "Oh Oh Darling" (Atco 6130 - 1958)
This band was from Oleans, NY, and the lead singer & guitarist was Pat Piccirillo, not Wallace. Wayne Lips, originally from Pittsburgh, was the drummer for the Satellites (Otts Antonelli was the third member, on guitar). After nearly two decades in New York, Lips returned home, and one of his local gigs was with the Rock'n Ravens. As his wife Nancy (thanks!) told us, Wayne worked with two bands fronted by a Pat and that's probably how the groups became associated. Other sidebars to "Jupiter C" - the song charted at #81 in February, 1959; the sax was blown by King Curtis and the writing credits went to Antonelli, who conceived the song; Oleans-based saxman Clyde Dickerson, who got it on paper, & Dick Biondi, who was a DJ at WKBW ( Buffalo, NY).
If any of you know more about Pat Wallace, give us a yell; his career deserves more than the few words we posted here.

Hole In Your Soul and C'mon And Work - Pat Wallace 1965