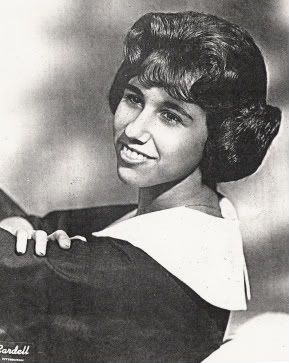 Marcy Jo from Robbee Records
Hey, for a while in the early sixties, Pittsburgh had its own Leslie Gore. She performed as Marcy Jo(e).
The singer was born Marcy Rae Sockel in 1944 in Oakland, and she was known by her buds as Marcy Joe. Every week for four years, she headed downtown to the Carlton House on Grant Street, where she took voice lessons from Lennie Martin, a noted local songwriter, arranger and music entrepreneur.
In 1961, she penned a song as a 17 year-old high school senior. It was written for her sweetheart, Howard, but she changed the title to "Ronnie." Hey, she may have loved Howard, but even he had to admit the name didn't have much of a musical ring to it.
As luck would have it, her old vocal coach, Martin, had just founded Robbee Records the summer before (named for his son, Robbie) and booked a recording session for her.
Martin and co-producer Lou Guarino set up shop at the nearby United Recording Service studios with back-up singers Lou Sacco, his older sister Amy, Kay Chick and Bill Fabec, who performed then as a Robbee act known as Lugee & the Lions. Later, Moon High's Sacco would change his stage name and cut some wax as
Lou Christie
.
Robbee released the ballad in March, and "Ronnie" was a Pittsburgh smash, reaching #7 on the National Record Mart sales rankings. Liberty Records picked up the disc for national distribution.
By the end of May the record was #81 on
Billboard's
Hot 100, #64 on the
Cash Box
charts, and #27 in
Variety
, not a bad debut.
Her April follow-up, "Since Gary Went In The Navy," was also backed by Lugee & the Lions. The tune was dedicated to the military bound Gary Troxel of the Fleetwoods. Another version was released at the same time (Troxel was quite a teen heartthrob back in the day), and the competing songs canceled each other out.
Even then, you had to support your records, and Marcy Joe went on a tour of one-nighters throughout the East that summer with Del Shannon and Johnny And The Hurricanes.
She came back and did one more Robbee 45 in September, "Jumping Jack," but it didn't move either, and Marcy Joe looked across state to find another label after Robbee folded its tents.
In 1962 she signed with the larger Philadelphia-based Swan Records, who released the singles "I'm A Dreamer, Aren't We All" and "How Softly A Heart Breaks," losing the "e" of her name in the process.
The label then teamed her with singer/songwriter Eddie Rambeau for a duet medley, "Those Golden Oldies." Sticking with the same format, the duo's next release was "Lover's Medley," combining "The More I See You," which became a top 20 hit for Chris Montez in 1966, with "When I Fall In Love," a top 10 hit for the Lettermen in 1961. It was one of
Billboard's
"Regional Breakout Single" picks, but it stalled at #132.
Rambeau would later have one hit in 1965, doing a remake of the Unit 4+2 smash "Concrete and Clay," which topped out at at #35.
Lennie Martin, her business agent, passed away shortly after the release of "Lover's Medley" at the age of 46. Marcy had one song left in her, a solo effort called "The Next Time," but there would prove to be no more next time; Marcy Jo never recorded again.
But all's well that ends well. Remember Howard, Marcy's teenage sweetheart? Well, she married him, so we'd have to say she had a pretty successful career all in all.
MARCY JOE DISCOGRAPHY (from
Spectropop
):
Ronnie/My First Mistake (1961) Robbee R-110
Since Gary Went In The Navy/What I Did This Summer (1961) Robbee R-115
Jumping Jack/Take A Word (1961) Robbee R-117
I'm A Dreamer, Aren't We All/First Kiss (1962) Swan S-4116
How Softly A Heart Breaks/Night (1962) Swan S-4128
The Next Time/How Sweet It Is (1963) Swan S-4148
MARCY JO & EDDIE RAMBEAU:
Those Golden Oldies/When You Wore A Tulip (1963) Swan S-4136
Lover's Medley/The Car Hop And The Hard Top (1963) Swan S-4145

"Ronnie" by Marcy Joe - 1961