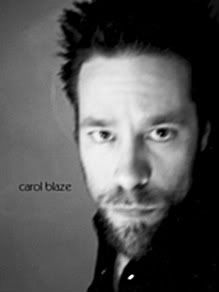 A. T. Vish
You can trace the Pittsburgh music scene fairly linearly, from the crooners to the jazz era to the R&B/doo-wop bands segueing into the pop/punk sound of more recent decades.
But beyond the club bands, musical genres of all stripes have bubbled just under the mainstream radar in the 'Burgh. Goth and industrial rock have been underground mainstays in the region, and some strong if locally underloved experimental electronica groups have emerged.
One of the veterans of the area's side stream scene is drummer A.T. (Al) Vish.
He's played the kit for Pittsburgh bands like the 90's garage-psych Thickhead Grin, InShalla, MACE, Una De Luna, electronica
Jilted Brides
, and perhaps the best-known of his groups, of New York's Projekt label, the goth/darkwave Lowsunday.
Lowsunday was named by
Alternative Press
as one of the "Top 100 Bands You Need to Know of 2002," and was featured on MTV and The Real World TV series before their breakup, when Vish departed to work on some solo projects.
In the summer of 2003, Vish was the drummer in South Side's City Theater and Hartford Stage production of the rock musical "Hedwig and the Angry Inch," starring Anthony Rapp. He also backed Rapp during his "Without You" show that premiered at the City Theatre in 2008.
But his raison d' etre has been Carol Blaze, the collective name for his solo work.
Apart from a couple of guest vocalists, the CD "Carol Blaze" is Vish's love child, featuring a mixture of drone, psychedelia, goth, darkwave, and rock, originally conceived as the soundtrack to a fictional character by the same name.
Written, performed, and recorded by Vish, he claims that the tracks are "the product of a confused sexual relationship between Nick Cave, The Sneaker Pimps, Bowery Electric, Tangerine Dream, Peter Gabriel, U2, and Monster Magnet."
Well, we don't know about all that; the mind shudders at contemplating a sexual bond between Sneaker Pimp and Monster Magnet. But it is an interesting sound, kind of a Bowie meets Pink Floyd mash-up with generally bleak, gloomy undertones.
One reviewer compared it to a "cleaned up Bauhaus mixed with New Order." The songs range from analog to darkwave to lo-fi to radio rock, quite a lot of genres to wrap one's ears around.
While the approach is an honest representation of Vish's collective musical experience, if you're a hard-core fan of one style over another, you'll find some tracks awesome, but will pound the "skip" button on others.
Even Vish recognizes that a melange doesn't suit everyone. So he's put together a pretty unique sales pitch - he offers 32 different tracks at his
MySpace Music
site, and will customize a mix-and-match Carol Blaze CD to your liking. How's that for service?
It's also available at other e-outlets, like i-Tunes and Amazon, for the less ambitious or more catholic listener.
Cuts from "Carol Blaze" have also been snapped up by a couple of indie film-makers, who used its dark, foreboding tracks to evoke the right mood for their flicks.
He's just followed up 2003's "Carol Blaze" with the September release of "Soul Surrender," on his All Terrain Vehicles label.
Vish also stays busy in his ATV recording studio. He's recorded and/or produced bands such as Peace Project, Between the Waters, Debutante, Boxstep, The Drag Strippers, Violaria, and Freddy Hall, among others.
So hey, remember there's life beyond the pop/punk scene in Pittsburgh. A.T. Vish is living proof.

A. T. Vish "Staring," video by Jilted Bride's Tanya Andrea Stadelmann