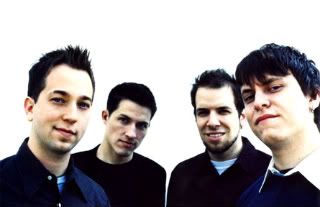 Punchline from Starpulse
Punchline is a pop punk band from Belle Vernon that first formed in 1997 as a trio. Its original members were lead vocalist/guitarist Steve Soboslai, bassist Chris Fafalios, and drummer PJ Caruso.
They were all students in BVHS, and began by playing local Mon Valley shows. They recorded "How to Get Kicked Out of the Mall," that was heavy on punk/ska, their initial trademark sound. In later recordings, the ska influence would wane; pop harmonies gradually replaced the Jamaican rhythms.
In 1999, the band self-produced and released their first full-length album, "Punchline."
Guitarist/vocalist Paul Menotiades signed up, and they recorded and co-produced "Major Motion Picture" in 2001. Punchline followed that in 2002 with "The Rewind" EP. The EP's four tracks featured for the first time their now signature pop-punk sound.
In 2003, the band signed with Fueled by Ramen Records, the Tampa-based indie label. "The Rewind" was remixed, remastered, and reissued. Early pressings included a DVD of Punchline in action.
With February 2004's "Action," Punchline continued on its pop-punk trail by featuring sharp harmonies, catchy melodies and riffs, and a strong rhythm section.
Soboslai, Menotiades, and Fafalios interweaved vocals on the disk, and the first 10,000 pressings also included a new DVD. Gotta love that multi-media approach.
That's when they lost their first player. Menotiades left the band in mid-tour, and Greg Wood replaced him for the remaining shows on the schedule.
Wood, a solo artist and member of Connecticut's West Beverly band, eventually joined the group full-time, and played keyboard and guitar on Punchline's 2006 release "37 Everywhere."
Why that title? The album's CD notes explain: "The number 37 is everywhere. It is in your daily routine and it will surprise you. Look for it and it will look for you." Even the liner notes contain 37 references to the number 37, and the band had 37 titles to select from when putting the tracks together. Spooky, hey?
"37 Everywhere," was released in 2006. The album was dedicated to John "Beatz" Holohan (1974-2005), former drummer of Bayside, and had a half-dozen guest punk players pop up on its tracks.
Greg Wood amicably bailed out in the summer of 2006. He left the band to pursue a solo career and to teach guitar. Keepin' that fourth member around was proving to be quite the chore for Punchline.
Wood was replaced by keyboardist Jon Belan, who was a high school bud, former member of The Berlin Project, and now lead singer for
Gene the Werewolf
.
In early 2008, the band left Fueled By Ramen, which had helped them become a presence locally and internationally. Later that summer, Punchline created their independent label, Modern Short Stories, using the $25,000 winnings from Heavy's Contraband Contest, a net-based battle of the bands. Punchline's videos were viewed over 1,100,000 times in four months on the site.
It's a unique boutique. Modern Short Stories has released a children's book authored by Fafalios and Tony Hartman, and plans to be a multi-media producer. For now, it has a couple of albums in the works and a DVD planned, both aimed for year-end release.
The album "Just Say Yes" was released on their label in September of 2008, with a limited four-track bonus disc. It marks a transition, from less of a punk sound to more of a heavy rock beat, ala Green Day and Weezer.
Punchline isn't just a studio band, though they've moved over 100,000 albums worldwide. They've cultivated a dedicated fan base (the "Punchkids"), using a blend of social networking on the web and a well-developed, often self-depreciating, sense of humor, and toured like madmen.
Punchline has played with Catch 22, Coheed and Cambria, Good Charlotte, Brand New, Reel Big Fish, Sum 41, Less Than Jake, and was part of the Warped Tour
In 2003, as a FBR act, they appeared in over 200 shows. During the summer of 2004, Punchline strutted their stuff in Japan with Fall Out Boy. In the spring of 2005, they embarked on their first headliner road trip, the Now or Never Tour.
They returned to the Land of the Rising Sun in June of 2006, when they had top billing on a Japanese tour with Paramore and October Fall. Punchline toured the UK for the first time in 2007 as a supporting act on the Good To Go Tour, and returned in 2008 for a second go-around on the GTGT, in addition to a lot of Tri-State dates.
This year, they're riding the bus for a series of American stops. In June, Punchline co-headlined the Major/Minor Tour with the band Socratic.
In September, Punchline set out on the AbsolutePunk Next Favorite Band Tour with groups Farewell, Between The Trees, and Action Item, focusing on midwestern and southern venues, ending in November. They'll follow up by taking to the highway with Hawthorne Heights, Just Surrender, Monty Are I and Nightbeast.
And hey, besides those early DVD's, the band also has a couple of vids to their credit for the tracks "The Ghostie" and "The Hit" from "Just Say Yes."
2009 saw a little more shake-up on the personnel front. In January, long-time drummer and original member P.J. Caruso left the band (on good terms; he said was going back to college and had a day job), to be replaced behind the kit by Pat Dee.
Then in late August, guitarist Jon Belan exited, to howl as Gene the Werewolf full-time. Former guitarist Paul Menotiades (currently playing as part of the singer/songwriter duo The Composure with Jesse Hall) is replacing Belan for their autumn tour "and possible future recordings."
"Delightfully Pleased," their newest release, hits the stores on August 10, 2010 from Modern Short Stories/TDR Records, and will include a limited vinyl edition. The release party is set for Friday, August 13 at Club Diesel. Its music features return to Punchline's roots sound, uptempo and percussive.
The band is now Soboslai, Fafalios, and new drummer Cory Muro, along with founding member Menotiades; the original trio are back together. The band will its US tour dates in the coming weeks.
Hey, the faces change, but everything old is new again, and the Punchline remains the same.

Punchline - "Ghosties"