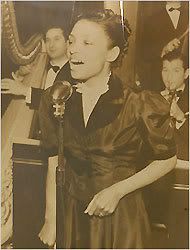 Maxine Sullivan from the New York Times
Maxine Sullivan was born Marietta Williams in Homestead on May 13, 1911, the daughter of a barber. The records she grew up with were by Bessie Smith, Fletcher Henderson and her favorite, Ethel Waters. Even though she never had any true musical training, those were pretty good teachers.
Sullivan got her professional start with her Uncle Harry Williams, who let her sing with his four-piece combo, "The Red Hot Peppers."
She was 19, graduated from high school with a son and broken marriage. She worked as a domestic by day and gigged with Uncle Harry at night until 1936, when she struck out on her own.
Big-band pianist Gladys Mosier caught her act at the Benjamin Harrison Literary Club, a small Liberty Avenue speakeasy snuggled between Smithfield and Grant, and said to be run by the mob. She sang from table to table, backed by a piano, and pulled in $14 per week, plus tips.
Mosier liked what she heard and introduced her discovery to band leader Claude Thornhill. It was a life altering hook-up. Sullivan made her first records in the Big Apple in June, 1937, under the wing of Thornhill and accompanied by his all-star band.
She had to screw up all her courage to take on the City That Never Sleeps. In fact, she had a return ticket tucked in her purse for the ride back home. But Sullivan never got to use it, and she made New York City her new home.
The critics at
Metronome
gave the discs good reviews. The session produced a hit record, a swing version of the Scottish folk song "Loch Lomond." Sullivan made the cover of
Life
magazine, and was featured as a vocalist on the CBS radio program "Saturday Night Swing Club." The song would become her signature piece.
Interestingly, Thornhill's decision to record folk and old standards wasn't a retro movement on his part. Like many Depression Era artists that didn't write their own tunes, he selected songs already in the public domain so he could avoid paying royalties.
Besides saving a buck and christening Sullivan's career, the song also stereotyped her to the public as a rockin' folkie, even though she had a cool, sweet jazz voice. Future sessions found her singing vintage folk tunes such as "I Dream of Jeanie," "Drink to Me Only With Thine Eyes", "If I Had a Ribbon Bow," "Molly Malone," and "Who Is Sylvia?" She never shed the folk/pop label for many of her fans.
Around the same time, Sullivan worked 52nd Street's Onyx Club in New York. She met bassist John Kirby there, and they made more than sweet music together. They were soon wed.
Kirby had worked with Fletcher Henderson and Red Allen. The bass man had recorded with Teddy Wilson, Willie "The Lion" Smith, Frankie Newton, Midge Williams, Charlie Barnet, and Lionel Hampton, and his contacts helped launch Sullivan's career. But their wedded bliss didn't have much of a shelf life, and they divorced in 1941.
In 1940 Sullivan and Kirby were featured on the CBS radio program "Flow Gently Sweet Rhythm," becoming the first black jazz stars to have their own weekly radio series. The show ended along with their marriage in the fall of 1941, but was taped by World and Associated for posterity.
Sullivan gigged at popular New York clubs like Le Ruban Bleu and the Village Vanguard. She developed a large following singing pop standards such as "I've Got the World on a String," "Come Rain or Come Shine," and "Skylark," along with show tunes by Gershwin, Porter, and Noel Coward.
In the mid 1940s she recorded on the Decca and RCA Victor labels with Teddy Wilson, Benny Carter, and Jimmie Lunceford, doing mainly ballads. She toured Great Britain in 1948 and again in 1954.
She also appeared in the movies "St. Louis Blues" (starring Dorothy Lamour) and "Going Places" (with Ronald Reagan, Dick Powell and Louis Armstrong). On stage, Sullivan appeared in "Swingin' The Dream" in 1939, and "Take A Giant Step" in 1953.
But with all that, Sullivan had pretty much fallen off of the jazz map until 1955 and 1956, when she recorded with Earl "Fatha" Hines, Dick Hyman, Buster Bailey, Charlie Shavers, and Russell Procope. It was a brief return to fame.
In the late 50's she studied to become a nurse and took up the valve trombone and flugelhorn, which she played at numerous concerts and festivals later in her career. From 1958 to 1966, she became a nurse. Odd switch, hey?
Not really. She took a hiatus from the music industry to join the mommy track so she could raise her daughter, then 12, and was a community activist in the Morrisania section of the Bronx. She was elected to the local school board, served as P.T.A. president under her birth name, Marietta Williams, and was even a teacher's aide at her girl's junior high school.
In 1966, she returned to the floodlights, playing with her new hubby, pianist Cliff Jackson. From then until 1986 she continued to appear at festivals, recorded several Concord sessions with Scott Hamilton, and sometimes joined Jackson's group, the World's Greatest Jazz Band. Sullivan often played the trombone and flugelhorn during her act.
When Jackson died in 1970, Sullivan decided to open a jazz community center and museum dedicated to him, which she called the House That Jazz Built. It opened on July 19, 1975, with a party featuring the World's Greatest Jazz Band with Sullivan on vocals.
Her career was back on top of the world. She received a Tony Award nomination for her performance in "My Old Friends" on Broadway and three Grammy nominations. Sullivan toured France and Sweden several times. Her last recorded concert was at the Fujitsu-Concord Jazz festival held in Tokyo in September, 1986.
Her hometown fans hadn't forgotten her. On March 15, 1984, she performed a concert at Walt Harper's in One Oxford Centre. Earlier in the day, then-Mayor Richard Caliguiri proclaimed "Maxine Sullivan Day" in Pittsburgh and state Rep Mike Dawida of Homestead read a citation from the Pennsylvania House dedicated to her.
A collection of her memorabilia is on display at Homestead's Carnegie Library. It's fitting in more ways than one. Sullivan made her first public appearance in 1918 at the Library at the tender age of seven, way before gaining international stardom.
She was slated to be the guest of honor at the 1987 Mellon Jazz Festival, but the Lord had other plans.
Maxine Sullivan died of cancer on April 7, 1987, little more than one month short of her 76th birthday. The last song she performed at the Fujitsu–Concord Jazz Festival and her final recorded track was "Loch Lomond." May the circle be unbroken.

"You Turned the Tables on Me" from the Manassas Jazz Festival