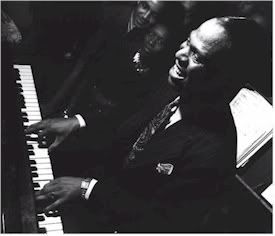 Earl "Fatha" Hines from Riverwalk Jazz
Earl Kenneth "Fatha" Hines was born in Duquesne on December 28, 1903, a late Christmas gift that jazz and music fans would enjoy for the next eight decades.
His dad Joe, a foreman at the local coal dock, played the cornet and was the leader of the Eureka Brass Band, while his stepmom Mary, who raised him from the age of 3, was a church organist.
Hines started out emulating his father by playing cornet, but "blowing" gave him a headache, something the piano didn't. He took classical piano lessons and played organ for his Baptist church, and also developed an ear for show tunes. Hines was able to play the songs he heard from memory, though he learned early on how to read music.
He moved on to Pittsburgh to attend Schenley High School, staying with his aunt, Sadie Phillips, who sang professionally in light opera. Hines was exposed to jazz while a Spartan, and that was the end of the classical training of mom and aunt. He went full tilt boogie.
At the age of 15, he formed a trio with a violinist and a drummer. They played at school functions, nightclubs, and church socials. His schedule became so packed by the time he was 16 that his teachers advised him to drop out of school and pursue his musical star.
At 17, Hines left his nest to take a job playing with Lois Deppe & his Serenaders in the Liederhaus (Leader House), a local nightclub, for two meals a day and $15 a week.
Deppe was a well-known Wylie Avenue baritone who sang pop numbers. He used Hines as his accompanist when the band toured Ohio, West Virginia, and New York City. Hines' first recordings were made with him and the band, but just as a sideman, not a soloist.
In 1924, he left Deppe to form a band of his own, with Benny Carter on sax. A year later, he heeded the advice of Eubie Blake to leave Pittsburgh and showcase his talents to a bigger audience, where they'd be more widely appreciated.
So Hines moved to Chicago in its jazz heyday, home to players like King Oliver, Jelly Roll Morton, Benny Goodman, and Frank Teschemacher. He caught on as a pianist with Carroll Dickerson's band, and eventually met Louis Armstrong.
They became compadres and got gigs together with Dickerson's band at the Sunset Cafe. In 1927, Armstrong took over the band and put it under the musical direction of Hines. They also took a shot at running the club.
Under Armstrong's influence, he originated the "trumpet style" of piano playing, in which he produced hornlike solo lines on octaves with his right hand and the harmony with his left.
Hines told the
Chicago Jazz Magazine
"When I was in the band I thought of myself as another instrument similar to the horns. In other words I used to team up with the other horns with my right hand, see? That's the reason why they call my playing that, trumpet style."
"I was amazed to find a trumpet player like Louis who was playing the things that I wanted to play. We were actually playing the same things, the same style. Only he was playing it on trumpet, I was playing it on piano. We used to copy from each other. If he used to make a run I'd steal it and say 'thank you.' And I'd make one and he'd steal it and say 'thank you'."
Armstrong revamped his Okeh Records recording band, Louis Armstrong's Hot Five, by replacing his pianist wife, Lil Hardin Armstrong, with Hines.
Hines also recorded 14 solos that year, including a homage to his roots, "57 Varieties." After flopping as managers of the Sunset club, he and Armstrong went their separate ways. Armstrong returned to Dickerson, and Hines joined Jimmie Noone's band at the Apex Club.
In 1928, Hines recorded several songs with Noone, including "Apex Blues", and made a series of influential recordings with Armstrong, among them the seminal trumpet and piano duet "Weather Bird."
On his 25th birthday in 1928, Hines formed his own ensemble, the Earl Hines Orchestra. For 11 years they were the house band of The Grand Terrace Cafe.
The club was controlled by Al Capone, who called Hines his "Mr. Piano Man." Hines would refer to his band as "The Organization," maybe in recognition of Scarface, or maybe because it often featured two dozen or more members.
They cut wax for Victor in 1929, Brunswick from 1932–1934, Decca from 1934–1935, Vocalion from 1937–1938, and for Bluebird from 1939 until the recording blackout during the war years of 1942-1945.
From The Grand Terrace, Hines and his band played live in front of open radio mikes, sometimes seven nights a week, coast to coast, across America. The Earl Hines Orchestra became the most widely broadcast band in America. It's also where he got his nickname of "Fatha," from the show's radio announcer.
The story is that Hines offered the soused radioman some "fatherly" advice about drinking on the job. The announcer retaliated by introducing him as "Fatha" Hines, and the nickname stuck. For the record, he never did care for the moniker.
The Hines band did three shows a night, four shows every Saturday, and sometimes played on Sundays. Each summer, the whole band toured for three months, including the Chitlin' Circuit.
Sometimes Hines signed other pianists to play, allowing him to conduct the Organization without any distractions. Jess Stacy was one of his sit-ins, and Nat "King" Cole was another, but Cliff Smalls was his favorite.
Charlie Parker got his first professional job with Hines until he was fired for his "time-keeping." Parker was chronically late for the shows, even resorting to sleeping under The Grand Terrace stage in an effort to beat the clock, but with no luck. Hines gave Bird the boot.
It was during the 1940s that the Hines' band's late night jam sessions laid the seeds for the upcoming bebop revolution in jazz with players like Parker and Dizzy Gillespie. Hines led his big band until 1948, taking time out to front the Duke Ellington orchestra in 1944 while Duke was ill.
As a band leader, Hines was generous in dishing out solos and keeping his hands off his player's creativity. He was a gifted composer and arranger, but Hines gave his band's arrangers free rein to explore the idiom. He was the only constant.
Some think the lack of a signature style let the bands of Duke Ellington, Count Basie, Glenn Miller, and Benny Goodman leapfrog Hine's crew in popularity. And while he recorded some top hits - "Piano Man," "Boogie Woogie on the St. Louis Blues," "Jelly, Jelly," and "Stormy Monday Blues," stardom stayed an arm's length away.
Hines, still physically beat from an auto wreck in 1946, tired of the rat race of running a big band and the genre's general postwar decline, broke up the group and returned to to the 88's with an old friend.
He joined the Louis Armstrong All Stars in 1948, sitting in with trombonist Jack Teagarden, clarinetist Barney Bigard, bassist Arvell Shaw, and drummer Sid Catlett. In 1951, finally wearying of the same playlist show after show and chafing at being a sideman, the pianist left and formed his own group.
He hit the road with his combo until 1955. Hines then settled down at the Club Hangover in San Francisco for five years and bought a home in nearby Oakland.
In 1960, with enough socked away to retire and spend his time with his second love, bowling, Hines opened a tobacconist's shop, and covered his keyboards, performing only when the spirit moved him. The dapper, cigar-chomping musician was ready to enjoy some hard earned down time.
But in 1964, at the urging of Stanley Dance, his bud, de facto manager, and eventual biographer, Hines performed three recitals at The Little Theatre in New York.
They were the first piano solos Hines, who always thought of himself as a band pianist, had ever given. The one man shows caused a sensation in the Big Apple and across the country. "What is there left to hear after you've heard Earl Hines?" asked the
New York Times
. Fatha Hines was back in the limelight.
Hines won the 1966 "International Critics Poll" for
Down Beat Magazine's
"Hall of Fame," and was elected the world's "No 1 Jazz Pianist," by
DBM
, an honor he was to take five more times. He took
Esquire's
"Silver Award."
Jazz Journal
awarded his LP's of the year first and second in their overall poll and first, second and third in their piano category.
Jazz
voted him "Jazzman of the Year" and selected his LP's as #1 and 2 in the piano recordings category. He also hit the small screen, landing on Johnny Carson's and Mike Douglas' TV shows.
Hines was inducted into the Jazz Hall of Fame in 1965.
From then until he died twenty years later, Hines recorded endlessly with jazz notables like Roy Eldridge, Duke Ellington, Ella Fitzgerald, Dizzy Gillespie, Lionel Hampton, Gene Krupa, Oscar Peterson, Pee Wee Russell,
Maxine Sullivan
, Jack Teagarden, Sarah Vaughan, Teddy Wilson, Jimmy Witherspoon, and Lester Young.
He also teamed with pop artists such as Teresa Brewer, The Inkspots, Peggy Lee, Charlie Mingus, Dinah Washington, and even Ry Cooder. But his most acclaimed recordings of this period were his solo performances. Just a band pianist, hmmph!
In 1968, Hines toured South America, Europe, and Asia, Australia, Japan and the Soviet Union. During his 6-week Soviet Union tour, the 10,000 seat Kiev Sports Palace was sold out, and the fans were wild. As a result, the Kremlin cancelled his Moscow and Leningrad concerts because they were "too culturally dangerous," hehe.
He played solo in The White House (twice) and for the Pope. We assume His Holiness and the Commander-in-Chief weren't corrupted by the cultural dangers of jazz.
Hines cut solo tributes to Louis Armstrong, Hoagy Carmichael, Duke Ellington, George Gershwin, and Cole Porter in the 1970s, often banging away on his 1904, 12-legged Steinway that was gifted to him in 1969 by Scott Newhall, the managing editor of the
San Francisco Chronicle
.
In 1974 alone, while in his seventies, Hines recorded sixteen LPs. Between his 1964 comeback until his death, he cut a total of 90 albums or so.
He was noted in the music industry for going into a studio and coming out an hour or two later with a finished recording. And that included his BS and coffee time, and ideally a snifter of brandy or two, just to keep the brain and his fingers nimble.
Retakes were almost unheard of during his sessions, except when Hines wanted to try a tune again, but turned around in some way from his first effort. It's great to know what you're doing, especially when you love what you're doing.
His music was indeed his first love, and it showed in his relationships. Hines was briefly married to singer Laura Badge in the early 1920's and had a common-law wife, singer Kathryn Perry. In 1947 Hines married Janie Moses and had two daughters, Tosca and Janear. They divorced in 1980.
In the later years of his life, he suffered from heart problems and arthritis. He passed away a few days after his last show, on April 22, 1983 in Oakland from a heart attack.
On his tombstone is the simple inscription PIANO MAN. 'Nuff said.

"The One I Love Belongs To Someone Else" - Earl "Fatha" Hines