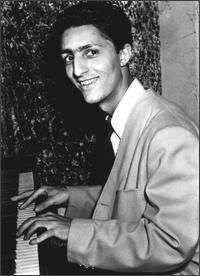 Dodo Marmarosa from All About Jazz
Michael "Dodo" Marmarosa danced in and out of jazz history like a moth around a flame, making a brief but lasting impact as one of the fathers of bebop in the 1940s.
Born on December 6, 1925, he was a child prodigy at the piano, and practiced with his school chum Erroll Garner. Marmarosa studied classical piano before turning to jazz.
He was dubbed with his childhood nickname of Dodo because of his large head, prominent nose and short body. Pittsburgh kids don't get cut much slack in their formative years.
From his boyhood days growing up on Paulson Avenue in Larimer, Marmarosa used all 88 keys on the piano. And he wanted more. Sometimes his fingers flew off the keyboard, playing imaginary keys in the air, hearing the closing chord in his mind. Air guitar? Hey, Dodo was the inventor of the air piano.
He practiced every day for hours, alternating hands until his left hand was as strong as his right. Within months, he was playing Bach for fun. But his early inspirations weren't Bach and Beethoven. They were swing pianists Art Tatum and Teddy Wilson.
In 1941, the Johnny "Scat" Davis Orchestra came to Pittsburgh, and found itself looking for a piano player. Even as a kid, Marmarosa had made a name for himself in Pittsburgh jazz circles, and some local musicians suggested that Davis sign up the young pianist. Davis did, and Dodo hit the road at age 15.
After a few months, the orchestra broke up. But Marmarosa and a few others hooked up with Gene Krupa's band. While working with Krupa in 1943, he and clarinetist Buddy DeFranco were beaten up by a gang of sailors who mistakenly took them for draft dodgers. The incident is thought to have led to his subsequent physical and mental troubles. More about that later.
Afterwards, he moved on to Charlie Barnet's big band. The band recorded "The Moose" and "Strollin'." He played the opening piano riff on Barnet's signature hit and theme song "Skyliner," the tune that may have been the inspiration for the name of Jimmy Beaumont's group.
During a tour in New York, one of Barnet's trumpeters got sick and was replaced temporarily by Dizzy Gillespie, who introduced Dodo to Charlie Parker. Dizzy and Bird became two of the key figures in the development of bebop and heavily influenced Marmarosa's hot and heavy piano style.
In early 1944, at age 18, he left Barnet's band to join Tommy Dorsey. The band featured a quartet including Marmarosa, Buddy De Franco, Sidney Block and Buddy Rich.
In November 1944, he left Dorsey and joined Artie Shaw, leader of one of the best big bands in the country. Shaw, like Dorsey, featured a small combo culled from the band, known as the Gramercy Five. Within it, Marmarosa found room to improvise, and the group made several popular recordings. The fivesome also featured guitarist Barney Kessel and fellow Pittsburgher and trumpeter Roy Eldridge.
Marmarosa followed only one drummer musically, and the beat he heard was bebop. This led some friction between Marmarosa and the rest of the planet. Shaw remembered him as a gentle and fragile man who never learned to cope with the pressures of jazz life, and prone to some off-the-wall behavior. According to Barnet, Marmarosa once pushed a piano off a balcony because wanted to hear what chord it would play when it landed.
His break-up with Shaw ran along the same unpredictable lines. The band was playing in a Midwest club, and the small crowd kept calling for "Frenesi," a popular Shaw arrangement. The band played the song twice during the first set and opened the second set with it.
Marmarosa yelled to Shaw that if he had to play the song again, he was leaving. Shaw called for "Frenesi" one more time, and Marmarosa walked off the stage and drove home to Pittsburgh.
After a few weeks in Pittsburgh, he moved to Los Angeles and began a free lance career, primarily as the house pianist for Lyle Griffin's Atomic record company. During his tenure there, he recorded such classics as "A Night in Tunisia," "Moose the Mooche" and "Yardbird Suite." He recorded sides with Charlie Parker, as well as working with top flight west coast musicians like Teddy Edwards, Howard McGhee and Wardell Gray.
In 1947, Esquire magazine published its "All-American" jazz band. The critics chose a pretty good group of musicians: Miles Davis, Sonny Stitts, Milt Jackson, Sarah Vaughn, Pittsburgh bassist
Ray Brown
and 21-year-old Dodo Marmarosa.
His health wasn't good, however, and he returned to Pittsburgh in 1948. Apart from brief tours with Scat Davis and Artie Shaw in 1949, he was only sporadically active in jazz for almost a decade, and most of that in low-key settings in Pittsburgh.
In 1954, he was drafted into the Army. Military life, as one can imagine, had a bad effect on his free-wheeling mentality and sickly physique. Marmarosa was discharged after spending several months in the hospital where he was given electric shock treatments. He also was involved in a somewhat messy divorce around that period.
Upon his return to Pittsburgh, he made little effort to rejoin the national jazz scene. He worked at the Midway Lounge in town, where he and bud Danny Conn recorded the live "Pittsburgh, 1958" and its popular track "Dodo's Blues." He cut "Dodo's Back" in Chicago in 1961 for Argo, and did two more sessions in 1962 with sax man Gene "Jug" Ammons and trumpeter Bill Hardman for the Prestige label, resulting in his last LP "Jug and Dodo."
He continued to play locally, his last regular gig being at the Colony Restaurant in Mt. Lebanon. That ended in 1968 when diabetes forced him to retire.
In 1992,
The Independent
in London ran an obituary of the pianist, and
The Guardian
followed suit a few days later. The only problem was that Marmarosa was still alive and kickin'.
The story goes that a persistent English jazz fan kept pestering Marmarosa with phone calls for an interview he didn't want to do. Eventually, the pianist himself answered the phone, and told him that Dodo Marmarosa had just died, trying to get rid of him. The fan carried the tale to London, where it was passed on to the press, which ran with the news a decade early.
He died for real on September 17, 2002, of an apparent heart attack. He was 76.
During his final years, Marmarosa was a resident at the VA Medical Center in Lemington. He'd pass the time with his bud, local jazz trumpeter Danny Conn, who visited him weekly, boosting his spirits by reliving the glory days. Dodo was an entertainer to the end, playing piano and organ for the other residents and their guests.
In fact, on the day of his death, his sister said he played a small organ on the fourth floor of the building before returning to his room because he wasn't feeling well.
And hopefully the troubled but brilliant pianist is still sitting at his beloved keyboards, playing his bebop somewhere in the halls of jazz Valhalla.

"Mellow Mood" - Dodo Marmarosa (1961)