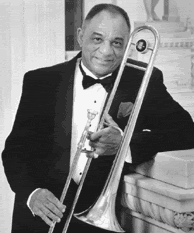 Harold Betters
Harold Betters was born on March 21, 1928 in Connellsville, the son of Robert and Lela who ran one of the area's hottest jazz spots, Betters' Grill and Hotel.
One of seven children, (brothers George, Jimmy, and Jerome ended up performing professionally; all the Betters kids played instruments), Betters took to music - specifically, the trombone - at a young age, emulating JJ Johnson and Tommy Dorsey.
He led his own local quartet which included pianist John Thomas and brother Jerome (aka "Jerry" or "Romy") Betters on drums. Betters then studied music education at Ithaca College for two years after high school, and then served a year's residency at Brooklyn's Conservatory of Music.
Betters was drafted in 1950, and played in the 308th Army Band for two years. He claims that service tour is when he really learned how to play music. Betters lived briefly in New York City after his discharge before returning to Western Pennsylvania. In fact, he still lives in Connellsville today.
It was a welcome return. Along with Walt Harper, Harold Betters was the face of local jazz in the sixties and seventies and one of the City's must-see acts.
And it's not just a case of big fish/small pond syndrome; Betters can blow his horn. He's performed with Satchmo, Al Hirt, Slide Hampton, Ramsey Lewis, and Urbie Green. The Harold Betters Quartet toured with Ray Charles and appeared with Dick Gregory at New York's Apollo Theater.
Beside the local jazzfests, Betters has also played on the big stages, like the Kool Jazz Festival. He's also given command performances for the late Happy Warrior, Hubert Humphrey, and Cleveland mayor Carl Stokes.
He's been on "The Tonight Show," "The Merv Griffin Show," and "The Mike Douglas Show," as well as on local TV programs in Pittsburgh, Cleveland, and San Francisco.
Betters has released over a dozen albums, and has to be considered one of the more commercially successful jazzmen based in Pittsburgh. His 1964 single "Do Anything You Wanna," released on Gateway, cracked the Top 100 and peaked at #74.
The first LP he did was fittingly enough "At The Encore" from 1962, reissued on CD as "Harold Betters Remembers the Encore." It led off the Gateway label Jazz Series; Betters would cut nine LPs for them.
He added three more discs for Reprise, a couple more from his own HB label, and a greatest hits collection on Spotlite to go with a handful of singles. All-in-all, Betters did pretty dang well as a recording artist.
But ask anyone who knew the club scene during that time, and they'll connect Betters with Wil Shiner's Shadyside Encore in a heartbeat. He played there so often that it became known as "The House that Betters Built." In fact, Betters has performed more recently at Cozumel in a homecoming of sorts; the space below the restaurant once was the Encore.
He was also a regular at the Holiday House and his late brother Jerry's club, the Crescendo in Oakland. And if you missed him there, well...
For a couple of decades, Betters led a jazz band which provided game day entertainment, mainly at Three Rivers Stadium, for the Pittsburgh Steelers, joining the team for a Superbowl trip or two. His players provided the musical accompaniment to the crowd's roar of "Here We Go Steelers, Here We Go..." and "Defense, Defense..."
Betters has entertained at Pirate and Pen games, too. He's the answer to this local sports trivia question: "Who played for the Pirates, Penguins and Steelers in the same year?"
But if you're not a sports fan, no worries: Betters can be heard on jazz radio stations and in many area clubs and venues; he's 82 and still gigging, even overcoming a bout of Bell's Palsy in 2008. And teaching, too. He's held shows and working seminars at Pitt, IUP, Penn State and West Virginia.
He's collected his fair share of accolades over the years. Betters was selected in the
Playboy
Jazz Poll as one of the best trombonists in the country, and as "Mr. Versatility" by
Downbeat Magazine
. He's also been named "Man of the Year in Music" by the Pittsburgh Chamber of Commerce and was inducted into the Pittsburgh Jazz Hall of Fame.
His success in this City is because he fused together its two most endearing and enduring musical forms, jazz and R&B with a blazing trombone and minimal vocals. Betters plays jazz standards, show tunes, and current hits arranged for a quartet and delivered in a soulful "hard bop" style, closer to Motown than Monterey. It's just the way Pittsburgh likes its music served.
LP Discography:
At The Encore (1962) Gateway
Takes Off (1963) Gateway
Even Better (1964) Gateway
Meets Slide Hampton (1964) Gateway
Yesterday, Today, And All Of My Tomorrows ???? Gateway
The Big Horn ???? H.B. Records
Swingin' On The Railroad (1965) Gateway
Ram-Bunk-Shush (1965) Reprise
Do Anything You Want To (1966) Gateway
Out Of Sight And Sound (1966) Reprise
Funk City Express (1966) Reprise
Christmas Album (1967) Gateway
Jazz Showcase (1977) Gateway
Best Of Betters (2000) Spotlite
With Friends, Live In New York (2001) H.B. Records
Selected Single Discography:
Do Anything You Wanna/All Alone (Gateway) 1964 (also released on Sue - 1965)
Stand By Me (Gateway) ????
Railroad/Dirty Red (Gateway) 1965
Moving Out (Gateway) 1966
Tall Girl (Gateway) 1966
All Alone (Gateway) 1966
Ram-Bunk-Shush (Reprise) 1966 (also released on Gateway)
Hot Tamale Man (Reprise) 1967
Papa-Ooh-MauMau (Warner Music UK) 2003

Harold Betters - "Tall Girl" (1966)