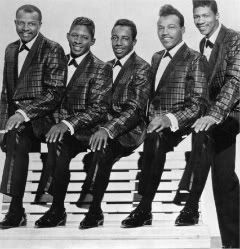 The Stereos image from Doo Wop
Hey, since we've zeroed in on Canonsburg's finest, we thought we'd head forty or so miles west to the "Burb of the Burgh" Steubenville and their claim to oldies fame, the Stereos, an Ohio R&B group that epitomized The Pittsburgh Sound.
It started at Williams pool hall, where a few buds polished cue tips and did a little singing. They soon discovered that they sang better than shot pool, and formed a group in 1954, the Montereys.
The band members were Bruce Robinson (first tenor and lead), Tom "Tex" Williams (first tenor & originally from Fort Worth, hence the nickname), Leroy Swearingen (baritone), and Ronnie Collins (bass).
In 1955, the Montereys were booked into a show in Pittsburgh put together by DJ Bill Powell of WILY. However, they found out that they shared a stage name with another group that was appearing, the New-Jersey based Montereys. So to keep the gig, they became the Hi-Fis; not very original but it kept them on the playbill.
The Hi-Fi's became fixtures on Stan Scott's "9 Teentime" TV show aired on Steubenville's WSTV, which reached into Pittsburgh. And like many groups of the era, especially ones who earned their paycheck by gigging instead of record royalties, the turnover in personnel was sometimes dizzying.
In 1955, Williams went back to Texas and was replaced by baritone George Otis. But Otis was quickly drafted and his spot was taken by second tenor Samuel Profit. Then they added two new members, tenor Ray Manson and Esther Thompson, a girl whose vocal range covered first tenor to baritone. They were all neighborhood buds.
Then, in 1956, Profit left to join the army. Scorecard, anyone?
In the fall of 1956, Athena Dallas, their manager and local dress shop owner, got the group an audition with Atlantic Records. They went to New York and sang for the label's president, Ahmet Ertegun. He inked the Hi Fi's to a contract, but recommended they find a new lead singer.
They went home and enlisted Howard Alsbrooks of Earl Brown's Orchestra, a local band that backed up the national acts that hit town, to fill that request. The lineup was now Bruce Robinson, Leroy Swearingen, Ronnie Collins, Ray Manson, Esther Thompson, and Alsbrooks.
New lead in tow, they headed back to the Big Apple, and to their surprise, found out that Atlantic decided not to honor their contract. Welcome to show biz.
They headed to King Records, and had the fortune to run into an A&R man, Henry Glover, who hailed from nearby Zanesville. He gave them a two-year deal, and had them record at Regency Studios.
In November, they cut four songs with Alsbrooks on the lead. And while they were at it, Glover decided to rename them again, and presto, they were now the Buckeyes, in honor of their home state.
As soon as the session was over, the group lost its lead. Alsbrooks was a bit of an outsider for the 'hood gang that formed the band, and as the vocalist/pianist for the Earl Brown Orchestra, the Buckeyes were second fiddle to him. He cast his lot with Brown, having never made a live appearance with the Buckeyes.
In January 1957, "Since I Fell For You" b/w "By Only You" (Deluxe 6110) was released on King's Deluxe subsidiary, based in Cincinnati.
The record was played on local radio station WSTV (the TV station lost its call letters to radio by now) by DJ George Wilson, and on Pittsburgh's WILY by Bill Powell. In April, they followed with their other two cuts, "Dottie Baby" b/w "Begging You Please" (Deluxe 6126). The platters got little airplay nationally, but did help the Buckeyes gain a solid local rep and bookings around the region.
In early 1957, Manson left the group, to be replaced by Profit, who was booted out of the service for being underage. Thompson took a powder in 1958, and Otis returned after doing his military time. Now the Buckeyes were Bruce Robinson, Leroy Swearingen, Ronnie Collins, George Otis, and Samuel Profit.
Deluxe let the contract lapse, and the Buckeyes didn't record again until mid-1959. They trooped back to New York, sleeping in the car and looking for a label. They pitched a demo, and finally Newark's Gibraltar Records set up a studio session for them.
And with a new label came a new name, the Stereos. Gibraltar thought the Buckeyes were too jockish a name for a musical group; it conjured up linebackers instead of soulmen.
In July, Gibraltar released "A Love For Only You" b/w "Sweetpea's In Love" (Gibraltar 105) doing well locally in their hometown and Pittsburgh ("Sweetpea" was reissued on Ideal 1110 in 1965 and was covered by several groups), and again their area presence took off; they played Pittsburgh enough to make it their second hometown.
In late 1959, Swearingen called it quits, frustrated by the group's inability to chart, and his slot was taken by Richard Albritton, a tenor and guitarist, who was then quickly replaced by Nathaniel Hicks in 1960. The Stereos were now Bruce Robinson, Ronnie Collins, George Otis, Samuel Profit, and Nathaniel Hicks.
In 1960, Gibraltar went out of business, and Otis Blackwell, their A&R man, moved to Cub Records (a MGM sub) and took the Stereos with him.
The next year, Cub released the uptempo, foot-stomping "I Really Love You" b/w "Please Come Back To Me" (Cub 9095, reissued as Arista 1032). "Love You" became the breakout song they were looking for, hitting #15 on the R&B charts and #29 on Billboard. Ironically, it was penned by original member Swearingen, who left because of the Stereo's lack of national success.
The tune is still a highly sought Northern Soul collector record, and was covered by George Harrison on his 1982 album "Gone Troppo." And it took them off the regional circuit to the big-time black venues.
They played the Apollo and other stops on the Chitlin' Cicuit, like the Howard (D.C.), the Royal (Baltimore), the Uptown (Philadelphia), and the Regal (Chicago).
But that was their high water mark. They released eight more 45's on six different labels, but they were never again to chart.
The Stereos did release a couple of local tracks on Pittsburgh labels. In October, 1963, Lou Guarino's World Artist label, with bloodlines back to Robbee, released "Mumbling Word" b/w "Good News" (WA 1012). "Word" is still a hot Pittsburgh oldie, and is a track on Itzy's "Pittsburgh's Greatest Hits V-5".
In 1965, "Don't Let It Happen To You" b/w "The Best Thing To Be Is A Person" (Val 2) was released on Val Records, a City label operated by local florist Augie Bernardi.
They had moderate success in 1967 with "Stereo Freeze, Parts 1&2" (Hyde 101, reissued as Cadet 5577), which got them another invite to the Apollo.
But in 1970, the group folded; all the personnel changes and label jumping couldn't get them back in the national limelight. In 1981, the "Stereo Freeze" group reunited for an oldies show in Pittsburgh, and that was their final bow.
(Marv Goldberg has everything you need to know about the Stereos on his R&B site, and if he missed anything, Andrew Hamilton of the All Music Guide has it.)

Mumbling Word - Stereos (1963)