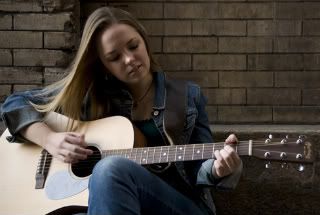 Maddie Georgi
Maddie Georgi is a seventeen year-old senior at Hampton High School, and she's been compared to singers like Taylor Swift, Carrie Underwood, Miley Cyrus, Sheryl Crow, KT Tunstall, and even Christina Aguilera and Jewel.
She credits Swift, Cyrus, Tunstall, Kelly Clarkson, Rob Thomas, and Sara Bareillis as being among the acts that have inspired her and her career. Pretty good company, hey?
Well, what Georgi does share in common with these hit-makers is a big voice and cross-over appeal. She gets jumbled into the country pop category more often than not because of some serious love she got from CMT, which we'll get to later, but Georgi's genre isn't so easy to categorize.
Her parents raised her in a household filled with Harry Chapin and Natalie Merchant songs, and she grew up listening to Matchbox 20, Third Eye Blind, Hootie and the Blowfish, the Goo Goo Dolls, the Beatles, Train, the Counting Crows, and Billy Joel. Georgi was on the singer/songwriter track right from the start.
And hey, she wasted very little time adding her voice to the chorus. She started singing in school musicals when she was seven.
Like Sarah Marince, Georgi used the National Anthem to get some local attention, singing it before everything from high school clashes to Pittsburgh Pirate games, and even prior to a Steelers' home opener.
She proudly boasts the Black and Gold; Georgi has been the host of the Steelers' KidsZONE show on Sunday mornings for the past three seasons. But her singing goes way beyond rousing the fans before kickoff.
Georgi played her early gigs at open mic nights in Pittsburgh. Her first brush with fame came when she was fourteen.
She has a younger brother, Jake, who is autistic. As a result of being directly affected by autism, Georgi plays charity events to raise money for the cure.
She won the Kean Idol contest, a benefit for the St. Barnabas Health System, when she was a freshman. Georgi was the only performer to ever win both the judges and audience "best performer" awards in the same year. Her prize was studio time at Audible Images, which she used to record her first original song, "Take My Hand."
Not only does she play the song during her many fund-raising events (she also helps in the fight against breast cancer, which two of her aunts battled with and survived), but she donated the song's rights to the AutismLink, which has raised thousands of dollars from its public sale for local autism programs.
Then came the 2008 CMT "Music City Madness" contest. 60,000 entries for a web-based, voter-selected best song were received; Georgi's "Gone Away Again" was selected to be one of 64 finalists in the competition.
After six rounds of online voting, her song came in second. Hey, no prize (CMT suits are apparently quite Darwinian), but she got to be on national television several times and got her name out among the modern country affectionados and webheads.
Soon she was in the recording studio, and those sessions at Market Street Sound resulted in her first EP, "Go," released in May, 2009. Georgi penned all six of the songs, including her first composition dedicated to Jake, "Take My Hand."
The disk caught on with the high school set pretty quickly. "Go," her title track, became the theme song for iTwixie, a social site for teen girls, and Georgi has a featured blog on the site.
The New York Songwriter's Circle "2009 Young Songwriter Award" placed Georgi among its three finalists. But she's certainly not just a cyber singer.
Georgi has performed at Club Café, the Hard Rock Café, Heinz Field, the Backstage Bar, South Side Works Town Square, the Syria Shrine Center, and PNC Park. She's opened for Grammy winner Van Hunt, Nashville's Brooke Waggoner, and Pittsburgh artists Billy Price and Bill Deasy.
She was part of Deasy's CD Release party at the Altar Bar last December, and topped that off by performing at the City's First Night celebration downtown. And remember, Georgi is just a teen; it's not that easy getting under-21 gigs at some of the venues she's booked.
And in 2010, she appeared on
The Clarks
EP "Songs In G," singing their old chestnut "Boys Lie."
Not surprisingly, she honors her roots by being the emcee for an under-21 open-mic night at Borders along McKnight Road every Thursday, giving North Hills kids the chance to perform.
Now she's at a bit of a crossroads; Georgi graduates soon (she just finished her part in Hampton's "Guys and Dolls" production) and has college beckoning. She loves singing and performing, but she's also realist enough to acknowledge what a hit-or-miss proposition a music career is.
Georgi is looking into a Plan B career in broadcast journalism, an offshoot of her interview work on kidsZONE. We applaud her sense. But hey - don't lose that guitar, Maddie -
Old Mon
can tell you college ain't all it's cracked up to be. And you're already well on the road to fulfilling Plan A.

Maddie Georgi - EP Release Party May 29th 2009