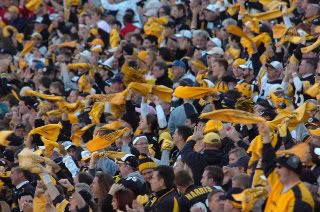 Hey, Old Mon gives his doo-wop props to WQED and guys like T.J. Lubinsky and Henry DeLuca. The public station has kept the good times rollin', and has another oldiesfest comin' up soon. They have a 40 act, three night extravaganza of groups (The WQED Oldies Spectacular) from the 1950s-70s booked to tape a live concert at the Benedum Center from May 21-23.
It's good for the station - you have to pony up a hefty pledge to get tickets - for PBS, which will broadcast the show in December, and for the oldie lovers who abound in the City and across the country.
Jay Black will be there, the Coasters, the Passions, Ronnie Spector, The Orlons, and Len Barry, along with local acts The Marcels, Lou Christie, and "The Guys From Turtle Creek," Bill Burkett & Huey Geyer of the Vogues.
And that's it, so far as we can tell - three local bands in a three night show. Hey, TJ and Henry, did you guys ever hear of the Skyliners? Chuck Corby? The Four Townsmen? Mickey Toliver and the Capitals? The New Holidays? Leon Daniels and the El Venos? The Laurels? Chuck Jackson? Buddy Sharpe? The Wee Jams?
Listen, there's a million local guys out there that paid their dues and are still performing, both for the love of music, a little fame, and beer money. With 40 bands playing, don't you think that maybe WQED could put one night aside for the Pittsburgh sound?
We know that PBS is in it for the money; heck, nothing wrong with that. Even a non-profit needs some profit to exist. We know too that there weren't that many Number One records out of Pittsburgh, even in its heyday, like there were from the coasts.
Still, Pittsburgh's music industry has always been one of the dampers on the local scene. Radio doesn't give the hometown bands any love, promoters don't push the groups outside the region, and the suits put everyone's music on some download site instead of properly promoting a platter.
TJ, Henry, and WQED - thanks for the job you guys do keeping the oldies alive. And next time, maybe you can show a little love to the local bands. Just because it's from California or New York City doesn't make it better.