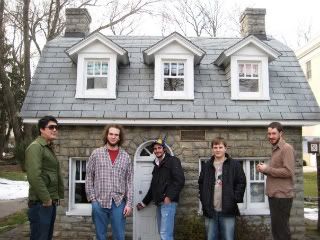 City Dwelling Nature Seekers
Hey, they were only formed two years ago, and they play in a country-alt niche that is all but foreign to Pittsburgh ears. But the Steel City is about more than R&B and garage rock; folk that like the Band and Phish will have no trouble getting down with the City Dwelling Nature Seekers.
The Americana jammers got together in 2008, and are all grads of the Mary Pappert School of Music at Duquesne University. The Bluff might be better known for turning out longhairs and jazz players, but in keeping with the regions' rich tradition of music-making, refuses to pigeon-hole its artists. Whatever gets your foot tappin' is fair game.
City Dwelling Nature Seekers were cobbled together by Mike McCormick, who does the lead vocals and plays acoustic guitar. The other members are Lee Hintenlang (vocals, acoustic guitar); Matt Booth, (bass, also plays with Cuidado); Chris Parker, (drums, also gigs with Bill Deasy); Jim Relja (electric guitar); Mike Borowski (electric guitar; also plays with Cuidado); and Dan Barrett, (keyboards).
Not too surprisingly, they cite The Band and Neil Young as their influences, though much of their set comes from McCormick's pen. The band itself plays a pretty tight set, with a taste for jamming. They launched their live career when they scored a weekly gig at Market Square's Milano bar.
Now you can catch the CDNS all over town - they've been or will be on the stages of the Brillobox, Howlers Coyote Cafe, the Harp and Fiddle, the Thunderbird Cafe, the Blue Moon, Club Cafe, Hard Rock, and the Smiling Moose. Hey, they were even finalists in WQED's college "Battle of the Bands" last year.
In September of 2009, they released a six-song EP, CDNS, which is available on CDBaby and iTunes, and are in the process of cutting their debut album. A single from the EP, "Will and a Way," has been featured on WYEP's Local News showcase, as well as
Pittsburgh City Paper's
online MP3 Monday feature.
It didn't take very long for a full length CD to come out. In August of 2010, they self-released "City Dwelling Nature Seekers" with a party at the Thunderbird Café. The disk stayed true to their roots, but showed some growth.
These guys are fairly recent additions to the 'Burg music scene, fresh from college, playing a roots genre, and indies to boot. They have a tough row to hoe ahead of them. But they've put together a tight sound, rock on regularly at the local clubs, got some tracks recorded, and are off and running into the future. If you're a fan of the jingle-jangle music of bands like Whiskeytown, make sure you catch their act.

City Dwelling Nature Singers - "Tradition" live at the Thunderbird Cafe