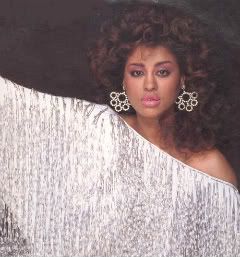 Phyllis Hyman from Disco Museum
Phyllis Hyman was born in Philadelphia on July 6, 1949, to an Italian American mother and African American father, but she grew up in St. Clair Village. She was the oldest of seven kids, and the home front wasn't all that. Her mother was manic depressive. Hyman would retreat into a world of music.
She started out as a another angelic voice in a local choir. It's said that an elementary school teacher noticed and nurtured her singing talents, giving her the encouragement and direction her family couldn't.
She was never a headliner in Pittsburgh, but found enough work to keep her occupied, and noticed. Hyman became a fairly regular back-up singer at Steel City Records in East Liberty. Its studios were located in a now razed building that sat where the Farmer's Market is held behind the Home Depot on the old Sears site.
(Don't ask - East Liberty has been through more changes in the past 50 years, because of developers and urban planners, than the Pittsburgh Pirate lineup.)

She actually went to Robert Morris College to become a legal secretary, just in case the singing thing didn't work out. It eventually did, and big time, but she had to bolt town to achieve her goals.
She left Pittsburgh to follow a scholarship to music school. On graduation, she went on a national tour with the group New Direction in 1971. After the tour, she joined Miami's All the People and worked with another local group, The Hondo Beat. Hyman also appeared in the 1974 film "Lenny."
She fronted a band called Phyllis Hyman and the P/H Factor. Hyman's work impressed Sid Maurer and former Epic Records promoter Fred Frank. She signed with their Roadshow Records/Desert Moon label.
Hyman moved to New York City to work on her resume. She did background vocals on Jon Lucien's "Premonition" and worked in clubs. Her star was launched when a pair of NYC nightspots, Rust Brown's and Mikell's, located a few blocks apart on Manhattan's Upper West Side, started featuring Hyman.
It was during one of these performances that she was spotted by Norman Connors, who offered her a spot as a vocalist on his 1976 album, "You Are My Starship." Her duet with Michael Henderson, a remake of The Stylistics' "Betcha by Golly Wow!," scored well on the R&B charts.
Hyman sang with Pharoah Sanders and the Fatback Band while working on her first solo album, "Phyllis Hyman," released in 1977 on the Buddha label. When Arista Records bought Buddah in 1978, her contract was transferred to that label.
Her first album for Arista, "Somewhere in My Lifetime," was released in 1979; the title track was produced by labelmate Barry Manilow. Her follow up disk "You Know How to Love Me," made the R&B Top 20 and also climbed high on the club charts.
Hyman married her manager Larry Alexander in the late 1970s, but both the personal and professional team ended in divorce. For the rest of the singer's life the search for love would cause her emotional turmoil, and it would just add to the list of problems she faced in her later years.
In 1981 Phyllis co-starred with Gregory Hines & Judith Jamison in the hit Broadway tribute to Duke Ellington, "Sophisticated Ladies" and continued in the role for two and a half years, garnering a Tony Award nomination and a Theatre World Award for Best Newcomer.
The original cast recording was released by RCA and the CD is now out of print. Hyman's first solo Top Ten hit was 1981's "Can't We Fall In Love Again," a duet with Michael Henderson, on the album of the same name.
"Goddess Of Love, recorded in 1983, featured a sensational cover shot of Hyman at her most seductive, draped in a silver bugle beaded gown (which she said weighed thirty pounds) and sporting chandelier-sized earrings, a Hyman trademark.
At a striking 6'1" tall, Hyman would always sport high heels and later in life wouldn't be caught without her signature tall, bejeweled hats. She cut an unforgettable figure.
The "Goddess Of Love" became her nom d' plume for both music critics and fans. Of course, the old-school still just called her "The Sophisticated Lady." Both fit her well.
Hyman recorded "Never Say Never Again" in 1983 as the theme song for the James Bond movie of the same name, written by Stephen Forsyth and Jim Ryan. It never saw the light of day, though, because Michel Legrand threatened to sue, claiming he contractually had the rights to the title song. It wouldn't be her last industry battle.
Problems between Hyman and her label, Arista, caused a pause in her recording career. Arista, according to show biz legend, had promised her she would be the next Diana Ross, but instead put all its efforts into pushing Whitney Houston.
But she used the time well, appearing on movie soundtracks, television commercials and guest vocals, working with Chuck Mangione, The Whispers and The Four Tops. She toured often and did a college lecture tour.
Finally free from Arista's control in 1985, she released the album "Living All Alone," and scored on the torch song "Old Friend" and the melancholy title track, as well as "You Just Don't Know" and "Screaming at the Moon" in 1986. Hyman went back to her birthplace and recorded for Philly soul masters Kenny Gamble and Leon Huff.
She appeared in the films "Too Scared To Scream" in 1983, the 1988 Spike Lee classic "School Daze," and co-starred with Fred Williamson in 1991's "The Kill Reflex." She collaborated with artists like Grover Washington, Jr.
By the late 1980s Hyman's live shows packed storied venues, like Harlem's Apollo, Oakland's Paramount, and the St. Louis Fox. Often dressed in African-inspired clothing, a fez atop her head, Hyman on stage had few peers, and she often took her act overseas with great fanfare and success.
Her next album, "Prime of My Life," released in 1991, was the biggest of her career and included her first number one R&B hit and first Billboard Top 100 Hit "Don't Wanna Change the World." The album spawned three more top ten singles "Living in Confusion", "When You Get Right Down to It", and the hit "I Found Love".
Just over a year later she appeared one last time on a Norman Connors album, singing the title song "Remember Who You Are", which became a minor R&B hit.
In 1992, she was voted "Number One Best Female Vocalist" in the UK by Blues & Soul magazine readers, beating out the likes of Anita Baker, Whitney Houston and Aretha Franklin.
By now, her own personal problems were spinning out of control.
A never-ending battle with alcohol and weight (she sometimes packed nearly 300 pounds on her statuesque frame, even though she modeled in her earlier years), combined with money woes, were making life difficult for Hyman and those around her.
She was known as a controlling personality, and as a black female in the music industry, that caused her to bang her head against an unmovable wall innumerable times.
In 1993 Hyman was dealt another blow when both her mother and grandmother died within a month of one another. She diagnosed as being bi-polar. When it rains, it pours.
During this time, Hyman became involved in the AIDS campaign. She performed at numerous benefit shows and visited wards and hospices around New York, often at the patients' request. The personal touch took a heavy spiritual toll on her, adding to Hyman's other demons.
In 1995, while appearing at a series of shows at Harlem's Apollo Theatre, opening for the Whispers, she told a friend that this would be her last show. It was.
Her body was discovered the next night by her live-in assistant Lennice Malina, after Hyman missed her curtain call. She was surrounded by empty vials of sleeping pills and left behind a suicide note. Hyman was rushed unconscious to St. Lukes - Roosevelt Hospital, where doctors pronounced her dead shortly after arrival.
She was a week away from her 46th birthday.
Hyman's last album, 1995's "I Refuse to Be Lonely," was a journey into her personal life. Both the title track and the single "I'm Truly Yours" became minor R&B hits. It was an exploration in many ways of her burdens, and her hopes to overcome them. The music wasn't released until after her death.
She's credited with 18 albums, 7 of which were released posthumously, a credit to her star power passing the test of time. Hyman had 22 singles land on the R&B charts, including three top-ten hits. She appeared in four movies and three more TV specials.
Hyman was never easy to categorize. She wasn't just a jazz singer, pop diva, or R&B artist, but all of these, and maybe more. She falls into the class of greats like Nina Simone, Nancy Wilson and Roberta Flack. They're music's Muses.
To prove the timeless appeal of Hyman's music, A Tribe Called Quest remembered her in their song "Baby Phife's Return," with the lyric "Let me take this time to say R.I.P. to Phyllis Hyman/Who never got the props that she damn well deserved..."
Amen.
(To find more about Phyllis Hyman, just visit Google - there's plenty of sites dedicated to her and her music. For an in-depth study, try the book "Strength of a Woman" by Jason Michael)
Living All Alone