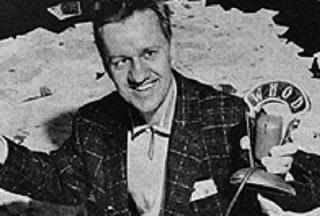 Porky Chedwick, who introducing generations of Pittsburgh teen-agers to R&B, is heading to the sunny shores of Florida at the age of 90. He and Jeannie are retiring to Tarpon Springs next month.
Porky plans to stay active, doing some cruise-line gigs and coming back home for the oldie shows.
He spun wax for 60 years at an untold number of stations, including WHOD's successor WAMO, Jeannette's WKFB, McKeesport's WEDO, and God only knows how many hops.
Pork the Tork had a farewell hop at Jimmy G's Restaurant in Sharpsburg on Sunday. If you want to catch him on the air once more before he leaves, the Daddio will be on WKFB-AM's (770) "Morning Memories Show." The three-hour tribute to Your Platter Pushin' Papa will air Friday, from 7-10 AM.
If you want to refresh your memories of the Boss Man's career, read the
Daddio of the Raddio
(Edit - the Pork Man and Jeanne plan to return Pittsburgh to stay.)